announcement
2FA and new security features
Security is something that we take very seriously at Phaxio. In the last few months we've been systematically evaluating our systems from a security standpoint. In July we began enforcing HTTPS across all API operations and the Phaxio website.
In December Phaxio began cryptographically signing all callbacks so that you can be sure that your correspondence with Phaxio certified (more on this later). Today we're taking it another step further by rolling out two-factor authentication.
To help with our implementation we've teamed up with Authy, the Twilio's two-factor authentication service. We recommend that you download and setup the Authy app (available on both iOS and Android) as this will make setup faster. Of course, if you'd rather not download an app, that's fine too, as Authy can also send SMS notifications.
Setup
To set up two-factor authentication, simply navigate over to the Profile page and select the "Enable" button under the Two Factor Authentication section. You will be asked for your phone number. Make sure that the number you're putting is linked to a phone with the Authy app or can receive text messages. Most importantly, you'll need to be sure this phone will be available to you when you need to access your Phaxio account.
Once you've submitted your number, your account will be 2FA enabled! Now, when you login to your Phaxio account you'll need to enter your password and enter a special code sent to your phone to access your account.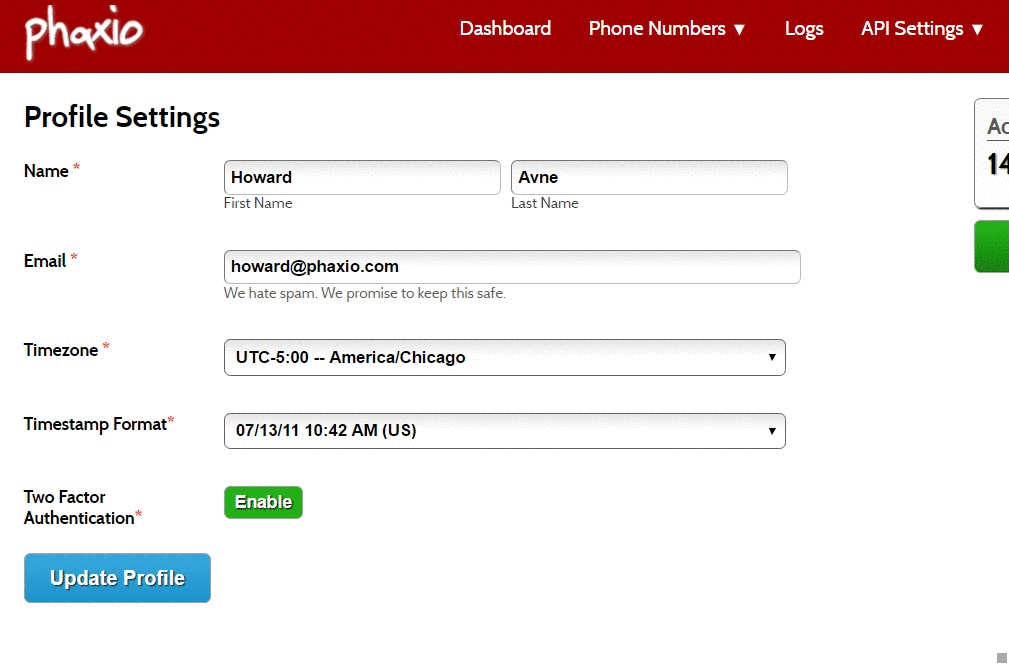 Two-factor authentication. Simple as that!
Have another security feature you'd like to see implemented? Let us know at support@phaxio.com.
Happy secure faxing!
Next Article
Tips for creating faxable documents